Busch Briar & Backwood stands for Me, Myself & I. Gerben Busch. Expert marketing professional who stands out from other marketers. With a 25+ year track record in 'digital', organizational change and ICT. I master customer experience (CX) and the related digital transformation. With your brand as the corner stone as that is what makes your customer journey unique. Stand out.
Expect a crystal-clear strategic context. Your north star. Considering top-level business goals, KPI's and OKR's. A smart roadmap ready for instant execution. And a pragmatic 'getting shit done' approach that drives acceleration. Both in how customers perceive your brand (brand experience) and in how your business performs. With a keen eye for short-term, scalable ROI.
Leading and revitalizing a team or department. Increasing team performance. Or transformation towards a new, customer-oriented way of working. With a new operating model and new processes that drive better customer and employee experience. You want it.
Pragmatic and smart advice on a strategic, tactical and operational level. With a clear customer experience ambition. And the digital transformation that's needed to accomplish that. With a proven success approach, earlier successfully used with local and global brands.
With a vast number of 'flight hours' on the cross section of marketing (operations), data and ICT, I am the ideal MarketingOps. As a marketer I speak ICT language. And ensure overview and progress based on experience working across all disciplines and business functions.
An experience stakeholder manager from C-level down to operations in global and small organizations. Who connects people to realize effective, agile execution based on a digital transformation roadmap. With a keen eye for short-term, scalable results.
A valuable pivot towards a crystal clear customer experience strategy and related digital transformation roadmap. Such as a user/customer experience scan (CRO). A super concrete customer journey map. Or an ICT 'Fit for purpose' check. A smooth start to shift up and live your ambition.
An expert opinion in case the execution of your strategy is not what you have in mind. Doubts about a recent marketing automation or data implementation. Or a need for an extra pair of experienced eyes to challenge any agency or technology vendor proposals.
"Strategy without execution is nothing but a dream"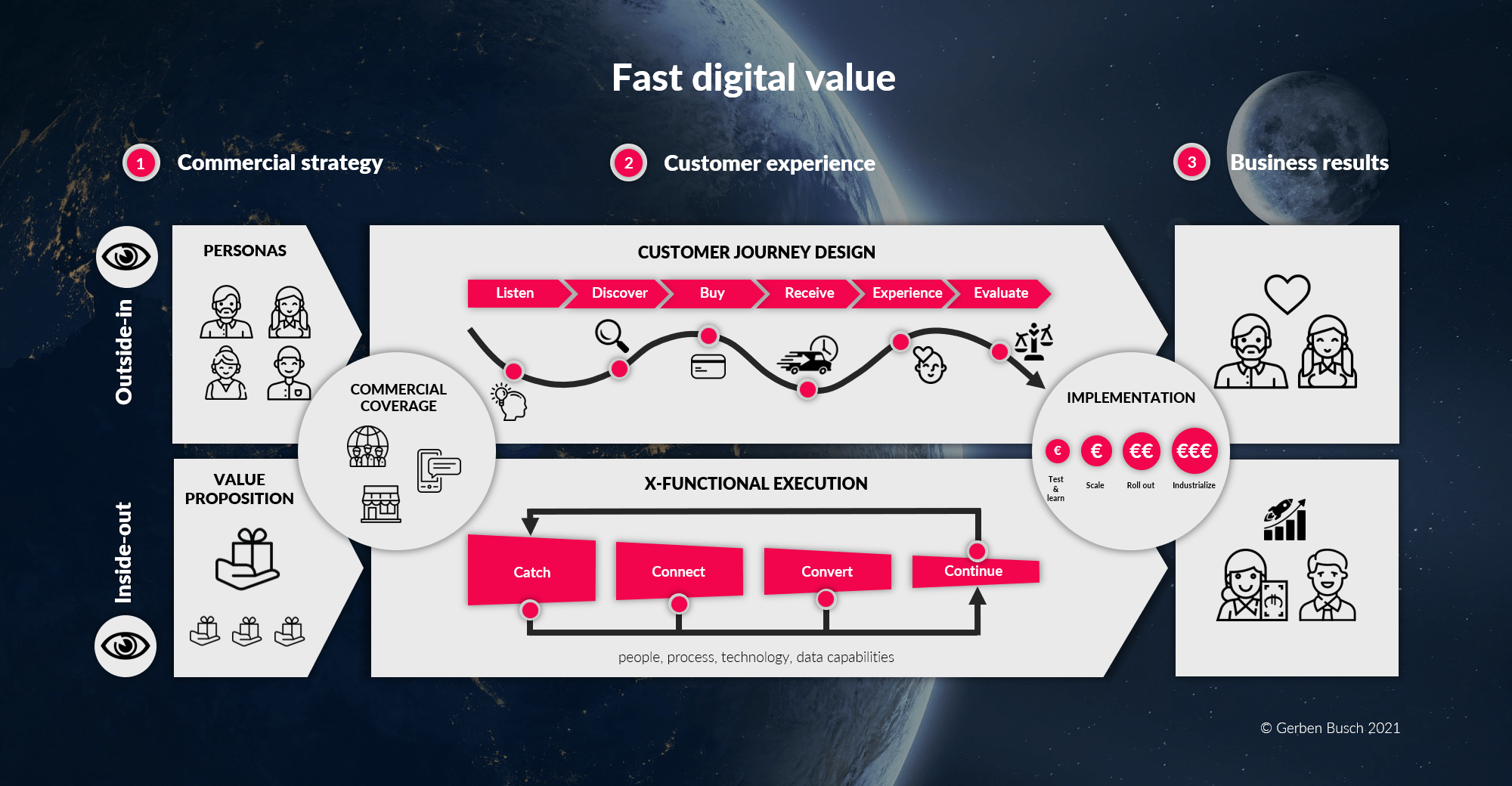 I deliver results. Short-term ROI, with benefits scalable towards the longer run. With a proven success approach that has yielded promising and sometimes spectacular results for my previous clients. Lower operational costs, more efficient processes, higher turnover and increased brand value. A success approach based on 100s of programs, projects and campaigns for more than 45 brands in more than 20 different lines of business. The heart of my method: strategy made tangible. Down to a level where we will be able to execute. And, consequently, roll up our sleeves and get it done! Based on a transparent roadmap. With business and value case-driven priorities.
As an input for new assignments I've had them in my hands quite often: strategic advisory reports from 'The Big Boys'. Too abstract, not ready for execution. Or marketing automation projects nipped in the bud. Also striking: the lack of attention for people in the organization. As digital transformation usually means changing or new roles, processes and procedures. Rule of thumb in any relationship: when you are investing, you will be invested. That is why I help CMOs and their peers and Marketing leadership to validate their customer experience ambition and create a crystal clear strategy. Translate that into a digital transformation roadmap and ensure we execute.
To successfully increase your customer experience and accelerate the related digital transformation and organizational change, you need more than a one-track pony: A CRM, loyalty or marketing automation specialist. Someone experienced in either e-commerce or brand communication. Or professionals who master ICT or data. Instead, you need a marketing multitool: a MarketingOps with experience in all domains. Who speaks the ICT language. A benefit: I am a 'hit the ground running' type of guy who connects people. Rolls up his sleeves. From effective analyses leading to concrete plans and roadmaps with clear prios in execution. A firestarter with a high energy level.
DESIGN THINKER
Thinks 'customer experience'. Already since 1993.
CHALLENGER
The status quo is not an option. There is always room for better.
GO-GETTER
Drills down to the core fast. Hits the ground running.
DIRECTOR
Maintains strong overview of plans' organizational impact.
CREATIVE
Keen eye for new opportunities. Executes concepts and ideas.
INITIATOR
Brings a strong drive, relentless energy and a positive vibe.
It is human for people to to put things and other people in imaginary boxes. As it feels fine to label things around you to make it comprehensible. Nevertheless, in case you have the ambition to deliver that perfect customer experience and realize the related digital transformation, a one-trick pony won't do the job. That calls for a jack of all trades.
Marketing strategy, customer journey map, strategic roadmap, ICT impact analysis, business and value cases, change management. For i.a. global brand Stokke and IJsvogel Retail.
From ICT impact analysis to implementation roadmap, data strategy, agile development and implementation and related change management. For i.a.: Nederlandse Loterij and global brand Royal IHC.
CRM, loyalty & membership
Design, development, implementation and roll-out of CRM strategy and loyalty programs, including 360° customer data profiles and back-end integration. For i.a. Tommy Hilfiger and Cadillac.
Heading global operations, campaign calendar and budget, creative briefing, omnichannel strategy, concept development, campaign assets (digital and offline) development. For i.a. Grolsch and Vacanceselect.
Capture functional and technical requirements and criteria, RFI/RFP guidance, marketing automation technology implementation and incremental development. For i.a. Marel and Volkswagen.
Breaking down data silos, customer data assessment, 360º customer profile creation, internal and external data source integration, CRM and CDP implementation. For i.a. global brand Rijksmuseum and ARTIS Amsterdam Zoo.
Jaren ervaring in 'Digital'
Digitale & omnichannel projecten
Retail
FMCG
CPG
Fashion
Sports
Automotive
Travel & leisure
Media & entertainment
Aviation/airlines
Professional services
Logistics/supply chain
Manufacturing
Consumer electronics
Telecommunications
Banking & insurance
Real estate
Consumer services
Gaming & gambling
Not for profit
Healthcare
Government
The companies that cater for my services and those I worked with in 100's of programs, projects and campaigns, are local and global brands. Active in B2C and B2B. Where I have worked client- as well as client advisory- and agency-side. What they have in common, is they all have a focus on optimizing their customer experience and contribute to the required digital transformation.
"Here at Stokke we have had the great pleasure of working with Gerben for two key projects. The first one was to develop a key process in Global Marketing, enabling us to deliver strong communication to many markets across the globe. Gerben was instrumental in designing a brand process enabling both global and regional marketing to create and deploy campaigns to support the business and strengthening the brand. The second project that Gerben took on was stepping in as our interim Global Communication Director for almost a year. Gerben has been leading a great international team of marketers across different locations and together with them delivering global campaigns, events etc. Throughout this period Gerben was also involved in strengthening our global creative agency, implementing a new brand platform as well as supporting integration of newly acquired brands. Gerben has done a very good job. He is very liked by the Stokke organization and to us in Marketing he quickly became an important member of the Stokke family."

Helene Abel Hansen

CMO @ Stokke
"I had the pleasure of working with Gerben while he was helping Stokke plan out their marketing roadmap for the upcoming years. Gerben is a smart, well organized, insightful, and transparent partner that not only helps move the work through the system, but also helps it get better along the way. I thoroughly enjoyed working with Gerben and look forward to hopefully doing it again in the future!"

David Newsome

Brand Director @ B-REEL (Stokke's creative agency)
"During my time as CRM director at PVH, I have come to know Gerben as a valuable counterpart. Together with his team he implemented our CDP as the core of our customer program, The Hilfiger Club. He clearly understood our business needs as a global fashion retailer where he balanced business needs versus technical requirements and capabilities, speaking both marketing and ICT language. At times challenging his own team to implement the solution right. And acting as a counterpart for our Global ICT. Of course, with these kinds of implementations things can get strenuous and hectic with deadlines in view. But he handled that pretty well, at all times keeping an overview on how to move forward. Also connecting other data sources over time went considerably smooth. And, what's important as well, he is a nice person to work with."

Ewa Badaruk

Director CRM, Loyalty & Customer analytics @ PVH (Tommy Hilfiger & Calvin Klein)
"Gerben helped us with the design and development of the CRM strategy and, together with his team, the implementation of our customer program, the VIP Club. As my own role was relatively new to me, I was more than happy with Gerben's involved CRM coaching style. Remarkable for me was he not only has extensive experience on the marketing side of CRM, but also shows a deep understanding of how you set up and implement a customer program from IT point of view. That showed in how he translated our business needs into technical specifications and the way he managed the development teams as he speaks their language. I really enjoyed working with him."

Jessica Langenberg

CRM Manager @ IJsvogel Retail (Pets Place & Boerenbond)
"I worked with Gerben for almost 10 years. A period where he proved some extraordinary skills. From strategic deep-dives up till including implementation, Gerben helps you in a pleasant and hands-on manner. His productivity is remarkable where large amounts of information and work are concerned. And he always delivers according to planning and budget. Reliability is one of Gerben's most important key values. Where the boardroom consultants hold their horses, Gerben goes on and makes strategies tangible: a clear roadmap and implementation plan for the marketing team, in order to make concrete steps and book progress. Hands-on. Equally important, Gerben is a great guy to work with. A 'man on a mission', but with a big heart. I can truly recommend Gerben for any program or project with a mix of strategy, branding, digital transformation, crm or data. A bold move to start as an entrepreneur. Go get 'em Gerben."

Philip Kok

CEO The Valley
"I have worked with Gerben since he joined Bookmark back in 2005, where he managed to elevate the digital and omnichannel maturity of our most important clients and played an important role in improving agency operations as well. At The Valley I have come to know him again as a solid and reliable agency pillar in a range of different roles. Gerben is someone with a strong drive, lots of energy and he is a skilled writer. And, I have come to know him as someone who always delivers quality. I recommend Gerben to any professional organization."

Auke Meijer

CFO/COO The Valley
"One of Gerben's qualities I really value and appreciate is the high level of quality he delivers in designing strategy, planning in execution and benchmarking service design projects. His proposals are always crystal clear and to the point. With eye for the essence ánd the relevant details. And, his proposals come with a true narrative. A absolute added value in business development."

Brian Oostenbrink

CXO The Valley
"Working with Gerben on GM's Cadillac, Corvette & Hummer business was a wonderful experience. He developed some brilliant & impactful European CRM strategies for the brands while in his role at Bookmark that helped us immensely with developing the client relationship at ACT. Gerben understands the true art of client service, and when combined with his strategic thinking on customer contact, lead generation & brand activation he becomes an amazing asset to any business."

Samuel Tait

Managing Director media transformation Dentsu Aegis Network